Ivan Mikloš: Rewriting the Rules (2001)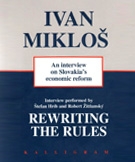 Hríb, Štefan a Žitňanský, Róbert: Rewriting the Rules: An Interview with Ivan Mikloš on Slovakia´s Economic Reform. Bratislava: Kalligram Publishing House, 2001.
Táto kniha poskytuje čitateľovi veľmi zaujímavé čítanie. "...Verím, že Slovensko patrí k Západu," hovorí Ivan Mikloš. Je to pravda, a nielen preto, že tu žije toľko úžasných šikovných ľudí, ku ktorým patrí aj Ivan Mikloš. Je to úprimný, priamočiary a sčítaný človek, otvorený veľkým výzvam, ktoré prináša dnešná doba.
Na zľahka provokatívne otázky odpovedá štýlom, ktorý vás motivuje zamyslieť sa nad mnohými vecami. Nevyhýba sa ani odpovediam, ktoré by iní priamočiaro nekomentovali. Sú to mnohé kľúčové témy dneška, mnohokrát vyvolávajúce kontroverzné reakcie.
Jedinečné sú najmä jeho komentáre na témy ako: globalizácia a internet, vzťahy medzi veľkými a malými krajinami, či kľúčové ekonomické dilemy dneška. Rovnako sa otvorene vyjadruje aj k problémom Slovenska, najmä ku zložitému vzťahu medzi politikou a ekonomickou reformou.
(János Kornai, profesor ekonómie, Harvardská univerzita)